PENGARUH PROSES TRANSNASIONALISASI COFFEHOUSE COMPANY "STARBUCKS COFFEE" TERHADAP BUDAYA TRADISIONAL MINUM TEH DI CHINA
Abstract
Fenomena globalisasi telah mendominasi berbagai aspek kehidupan manusia saat ini, globalisasi telah membuat pola interaksi dan aktivitas manusia berubah menjadi lebih cepat, modern dan inovatif. Seperti pada aspek ekonomi saat ini, globalisasi mengakibatkan adanya proses transnasionalisme ekonomi dimana TNC dan MNC menjadi aktor kunci dalam arus ekonomi global di berbagai sektor dan komoditas.  Korporasi transnasional ini mampu menciptakan trend konsumerisme dengan gaya baru, modern dan eksklusif yang membuat semua orang tertuju dan berusaha untuk mengikutinya. Seperti yang terjadi pada trend minum kopi yang saat ini telah menjadi sebuah global coffee culture yang salah satunya dipelopori oleh Starbucks Coffehouse Company. Keberadaan Starbucks Coffehouse Company di berbagai negara di dunia, salah satunya di China diprediksikan dapat menjadi sebuah tantangan bagi eksistensi budaya lokal setempat, seperti budaya tradisional minum teh di China yang telah menjadi tradisi turun menurun. Tulisan ini akan menganalisa bagaimana pengaruh Starbucks terhadap budaya tradisional minum teh di China menggunakan konsep Globalization and Three H Scenario. Hasil analisis menunjukkan bahwa Starbucks mampu menginternalisasikan nilai-nilai modern budaya minum kopi dan merubah persepsi masyarakat China yang dulunya hanya berorientasi terhadap teh kini berubah mengkonsumsi kopi, dan perlahan-lahan Starbucks dapat menggeser budaya tradisional minum teh di China.
References
Buku
Pieterse, J. N. (2009). Globalization and Culture. In M. B. Steger (Ed.), Globalizations and Culture : Global Melange (2nd Editio). Rowman & Littlefield Publishers, Inc.
Ritzer, G. (2010). Globalization A Basic Text (1st ed.). John Wiley & Sons Ltd.
Ritzer, G. (2012). The Wiley-Blackwell encyclopedia of globalization. Choice Reviews Online, 49(12), 49-6650-49–6650. https://doi.org/10.5860/choice.49-6650
Tucker, C. M. (2011). Coffee Culture: Local Experiences, Global Connections (1st Editio). Taylor & Francis.
Verstovec, S. (2009). Transnationalism (1st Editio). Routledge.
Jurnal
Hassi, A., & Storti, G. (2012). Globalization and Culture: The Three H Scenarios. Globalization - Approaches to Diversity, 3–20. https://doi.org/10.5772/45655
International Coffee Organization. (2015). Coffee In China. International Coffee Council 115th Session, August, 0–9.
Thesis
Hersh, G. (2016). Cultural Implications of Starbucks Consumption in China: Why do Chinese Have a Latte on their Mind? [University of Missisipi]. https://egrove.olemiss.edu/hon_thesis/1250
Website
Bonaglia, M. (2020). The Rise of Coffee in China. http://www.galileiinstitute.it/the-rise-of-coffee-in-china/
Boss, A. (2018). How Big Is Starbucks in China? https://www.youtube.com/watch?v=O4pszfh1ORM
Burkitt, L. (2016). Starbucks to Add Thousands of Stores in China. Wall Street Journal. https://www.wsj.com/articles/starbucks-plans-thousands-of-new-stores-in-china-1452580905
Claire Si Yan Li. (2018). Starbucks : 20 Years in China. https://medium.com/swlh/starbucks-20-years-in-china-9fa8e0c33cf1
Culture, C. (2008). China, the Homeland of Tea. http://en.chinaculture.org/library/2008-01/08/content_29559.htm
Starbucks. (2021). Starbucks in China. https://www.starbucks.com.cn/en/about/
Statista. (2020). Number of Starbucks stores worldwide from 2003 to 2020. https://www.statista.com/statistics/266465/number-of-starbucks-stores-worldwide/#:~:text=Total Starbucks locations globally 2003-2020&text=There were 32.66 thousand Starbucks,as Siren Retail and Teavana.
Tanjung, I. (2016). What you need to know about Chinese tea-drinking traditions. The Jakarta Post. https://www.thejakartapost.com/life/2016/07/23/what-you-need-to-know-about-chinese-tea-drinking-traditions.html
UKEssays. (2018). Nestlé's Expansion into China Analysis. https://www.ukessays.com/essays/management/nestle-company-in-china-management-essay.php
Xue, D. (2019). Coffee getting popular in tea-drinking China. CTGN. https://news.cgtn.com/news/2019-10-29/Coffee-getting-popular-in-tea-drinking-China-LbmEhxXzP2/index.html
Zakkour, M. (2017). Why Starbucks Succeeded In China: A Lesson For All Retailers. https://www.forbes.com/sites/michaelzakkour/2017/08/24/why-starbucks-succeeded-in-china-a-lesson-for-all-retailers/?sh=4151c8e07923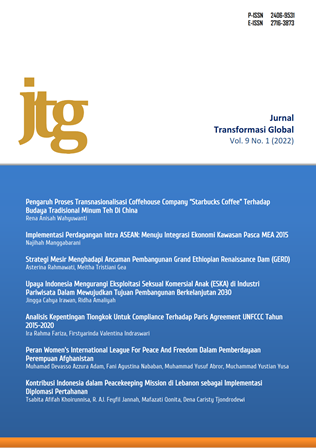 Downloads
License
Copyright (c) 2022 Transformasi Global
This work is licensed under a Creative Commons Attribution 4.0 International License.