STRATEGI MESIR MENGHADAPI ANCAMAN PEMBANGUNAN GRAND ETHIOPIAN RENAISSANCE DAM (GERD)
Abstract
Nile river passes through Egypt, Tanzania, the Democratic Republic of the Congo, Ethiopia, Uganda, Kenya, Sudan, Rwanda, Eritrea and southern Sudan. The river that is the pride of the Egyptian state does flow to various countries, but other countries do not feel the benefits at all. Only Egypt has the right to use the water of the Nile in accordance with the treaties in 1929 and 1959. 97% of Egypt's water supply comes from the Nile. Egypt has become a country with strong control over the distribution of water discharge in the Nile. However, as a country mired in poverty and struggling with severe drought, Ethiopia, considers the agreement irrelevant and very detrimental. Ethiopia finally challenged the historical water access rights through the construction of the Grand Ethiopian Renaissance Dam (GERD). This project is planned to be completed in 2022. However, the construction of this dam by Ethiopia of course be a big threat to Egypt because it can drastically reduce the availability of water to the country, so the right strategy is needed to be able to overcome the threat of GERD development. The paper in this study aims to find out how Egypt's strategy is in dealing with the threat of the construction of the Grand Ethiopian Renaissance Dam (GERD). In this study, the author applies a qualitative method. The author utilizes various related sources such as journals and books and is analyzed using the theory of the National Interest to be able to answer research questions.

Keywords: Egypt, Ethiopia, GERD, Nile River
References
AFP. (2020, November 2). Mesir, Sudan, dan Etiopia Kembali Berunding Soal Sungai Nil. Retrieved September 24, 2021, from CNN Indonesia: https://www.cnnindonesia.com/internasional/20201102051232-127-564711/mesir-sudan-dan-etiopia-kembali-berunding-soal-sungai-nil
Attia, H., & Saleh, M. (2021). The Political Deadlock on the Grand. German Institute for Global and Area Studies , 1-10.
Aznor, A. (2015). KEPENTINGAN MESIR MENOLAK MERATIFIKASI KESEPAKATAN. JOM FISIP , 2, 1-14.
Bainus, A., & Rachman, J. B. (2018). Editorial: Kepentingan Nasional dalam Hubungan Internasional. Intermestic: Journal of International Studies , 2, 109.
Baradei, S. E., & Ali, H. (n.d.). Egypt and The Renaissance Dam. Retrieved September 24, 2021, from The American University in Cairo: https://www.aucegypt.edu/news/stories/egypt-and-ethiopian-renaissance-dam
Dunne, C. W. (2020, Juli 30). The Grand Ethiopian Renaissance . Retrieved September 2021, 2021, from Arab Center Washington DC: https://arabcenterdc.org/resource/the-grand-ethiopian-renaissance-dam-and-egypts-military-options/
Farouk, M. A. (2018, September). The Golden Goose: Investing in Ethiopia. Retrieved September 24, 2021, from American Chamber of Commerce in Egypt: https://www.amcham.org.eg/publications/business-monthly/issues/273/September-2018/3771/the-golden-goose-investing-in-ethiopia
Firepower, G. (2021, March). Comparison of Egypt and Ethiopia Military Strengths (2021). Retrieved September 24, 2021, from Global Firepower: https://www.globalfirepower.com/countries-comparison-detail.php?country1=egypt&country2=ethiopia
Hartung, J. (2021, June 17). Egypt's Risky GERD Strategy. Retrieved September 24, 2021, from HORN Institute: https://horninstitute.org/egypts-risky-gerd-strategy/
Indonesia, B. N. (2013, Juni 13). Ethiopia ratifikasi traktat air Sungai Nil. Retrieved September 24, 2021, from BBC News Indonesia: https://www-bbc-com.cdn.ampproject.org/v/s/www.bbc.com/indonesia/dunia/2013/06/130613_ethiophianil.amp?amp_js_v=a6&amp_gsa=1&usqp=mq331AQKKAFQArABIIACAw%3D%3D#aoh=16324696835294&referrer=https%3A%2F%2Fwww.google.com&amp_tf=Dari%20%251%24s&ampshare=https%3
Muhdar, M., Dharmiasih, D. W., & Prameswari, A. A. (2019). Alasan Pemerintah Ethiopia Membangun Grand Ethiopian Renaissance Dam (GERD) di Kawasan Sumber Daya Air Lintas Batas Negara. OJS UNUD , 1, 1.
Nye, J. S. (1990). Soft Power. Foreign Policy , 153-171.
Plano, J. C., & Olton, R. (1999). Kamus Hubungan Internasional dan Globalisasi Ekonomi. Jakarta: Ghalia.
Viotti, P. R., & Kauppi, M. V. (1999). International Relations Theory Realism, Pluralism, Globalism, and Beyond. Bacon: Allyn and Bacon.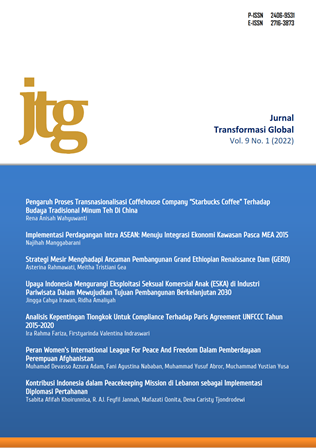 Downloads
License
Copyright (c) 2022 Transformasi Global
This work is licensed under a Creative Commons Attribution 4.0 International License.